Muhammad Habibur Rahman Khan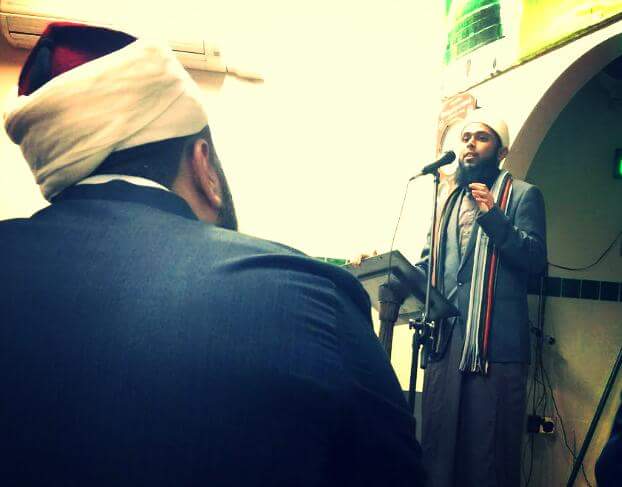 Name: Muhammad Habibur Rahman Khan
Phone: 07401857161/01383739816
Email: imam@dunfermlinecentralmosque.org.uk
Facebook, Twitter, Instagram, Snapchat | mhrk95
Qualifications:
Certificate in Arabic Phonology

Experiences:
Project Manager ,Teacher
Biography:
---
As a result of his parents' upbringing, Imam Muhammad Habibur Rahman Khan was encouraged to study and become a well-educated individual. The pursuit of acquiring knowledge was also motivated by faith, leading him to enrol at Jamia Al-Karam, a well-established and reputable Islamic seminary, at the age of 11. After graduating from the school having completed his GCSEs in 2011, his stay at the institute continued, this time in the Faculty of Dars Nizami, in which he completed the 3-year Diploma in Islamic Sciences & Classical Arabic Language in 2014.
Post-graduation, the Imam joined the Cambridge Muslim College where he spent a year, this time graduating with honours in the college's Diploma in Contextual Islamic Studies & Leadership under the tutelage of Shaykh Abdal Hakim Murad. He returned to Jamia Al-Karam to pursue further knowledge opting to study the 2-year Advanced Diploma in Islamic Sciences & Traditional Scholarship. Alongside this, he completed one year of modules of the BA Islamic Studies affiliated to Middlesex University. After graduating from the institute, he went to study further Tajweed under Ustadh Abu Adam Akhlaq al-Azhari at Darul Qurra & Islamic Research Centre in Birmingham before moving to Scotland. He is currently studying Islamic and Middle Eastern Studies at the University of Edinburgh.
Alongside his studies, Imam Habibur Rahman has also been very active within the community. He was a member of the Al-Ni'ma Nasheed group, performing on a number of occasions quite notably at the annual Gateway to Divine Mercy events. He has also delivered talks up and down the country, most notably at the University of Cambridge. Additionally, he has written articles and has been on BBC Radio Sheffield, Radio Ramadan Sheffield, Awaaz Radio High Wycombe and Radio Ramzan High Wycombe.
He has experience in charity work with Muslim Charity as well as experience in hospital and prison chaplaincy after completing and attending courses at Addenbrokes Hospital in Cambridge and HM Prison Manchester. He also participated in the 'Creating a Culture of Peace: What Religions Can Do' conference whilst one a 4-day programme called 'Muslims and Christians in Dialogue' in Rome.
In Sheffield, he taught at Jamia Masjid Gulzar-e-Habib and was a member of a community organisation called An Nasiha. During his time in Cambridge, he taught at Al Ansaar Academy and was part of many events organised by the Cambridge University Islamic Society. He was a participant in answering questions and discussing views on halal food with a member of the government advisory committee. He also had discussions with OCR representatives regarding the syllabus for Religious education. Currently, he is serving the community of Fife as an Imam at Dunfermline Central Mosque & Islamic Centre and was recently elected as the Vice-Chairperson of Fife Interfaith Group.
---